Worldwide demand of custard apple falls
Novofrut ha conseguido llegar hasta Oriente Medio con una marca referente en la producción de esta fruta tropical.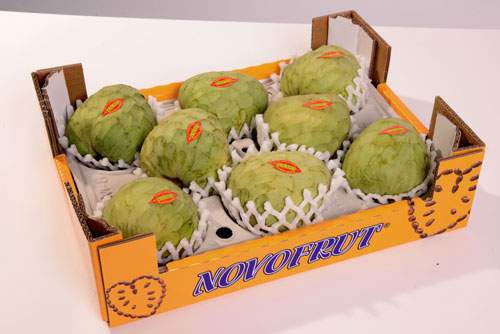 Consumption of custard apple has long been limited to our country. Nevertheless, efforts made by the sector together with their commitment to what has been called by many 'the new aspirin', were enough for exports to grow by 28% last year, thus exceeding two million kilos. Portugal is the main destination, followed by France and Germany. Yet some enterprises have gone beyond, as it is the case of Novofrut, which reached the Middle East.
Head of exports, José Francisco Novo, told us about the details. Besides custard apple, which means 65% of the fruit marketed by this firm (three million kilos), the company produces mango, avocado, and, medlar. The key is being a specialist and knowing the characteristics of each and every plot, which allows to determine the best moment for pollination, the ideal pruning technique, and the time for harvesting. Likewise, being aware of the progresses in terms of research, they are in close touch with experts at La Mayora, in order to be informed about advances in terms of varieties and crop management.
The company will set in motion two new chambers this year, one of them devoted to ripening and the other to preservation, which will enable them to double production capacity and to increase marketing. The investment has been rather significant -€300,000 plus- and adds to those made in previous years to expand their facilities.