Innovative proposals for current consumers. PRIMAFLOR
En Primaflor son conscientes de la necesidad de seguir innovando con nuevas soluciones para los consumidores, que verán la luz a medio plazo.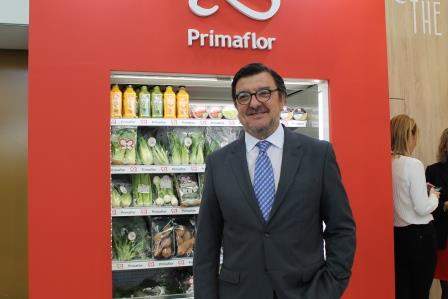 The innovation defines what today is Primaflor, an entity with more than 40 years of history, whose origins go back to the cultivation of flowers: from there to lettuce, reaching the IV Range in 2005 as part of a natural evolution, of that business mission to offer solutions to the consumer. Cecilio Peregrín, Primaflor's corporate director, reviews the years that have passed, in which innovations have been decisive not only for his organization, but also for the development of modern agriculture. "We were one of the first companies to use the drip irrigation system, imported directly from Israel", explains Peregrín.
And thanks to the search for these solutions, today this entity is a leader both in the segment of fresh lettuce and prepared salads, considered one of the most active suppliers in terms of presentations. "Prepared salads have evolved a lot in recent years, today we can find chilled line from a bag of lettuce to a complete and balanced menu", says the director, noting that it is now possible to eat healthy regardless of place or the moment of consumption. To this end, the introduction of protein supplements of both animal origin (turkey, chicken), and vegetable (quinoa), oleic acid, carbohydrates (pasta), which, in addition to enrich the dishes, provide a touch fun and attractive, which is what the current consumer is really looking for.
At present, the commercialization of lettuce and other leaf products represents 70% of its volume, while prepared salads only 30%. "Even if we talk about billing, ready-to-consume products account for 45% of revenues, for the added value they provide", Peregrín points out.
Asian vegetables
The need to evolve led Primaflor a few years ago to bet on the production and commercialization of Asian vegetables, with 14 products. Currently they only present it in I Gama, although they do not rule out including it in the medium term within their IV range solutions, once this type of product has become popular.
Veggie solutions
Aware of new consumer trends, Primaflor is already working on a line of veggie products, with which they seek not only to satisfy this new group of consumers, but also all those who care about their food and its origin.